We get asked this question all the time, what are the best dump trucks? Or what's the most popular dump truck brand? To help answer those questions we've put together a guide of the best dump truck manufacturers in the United States. 
We've also included a guide to the different types of dump trucks.
There are many dump truck manufacturers. With endless configurations for several types of applications. There's a dump truck out there that will fit your needs. 
Here's a list of the 8 most popular dump truck brands in America. Listed 8 through 1. Scroll down to see which truck brand is #1.
8.

Volvo

Volvo Trucks is one of the leading heavy truck and engine manufacturers in the world. Today, Volvo Trucks manufactures a broad line of on-highway and vocational Class 8 vehicles. 

Dump trucks have to be tough, period. If there's a pile of dirt on the job site, you drive over it. If there's a pool of water, you drive through it. And you do it day after day. 

That's exactly the truck Volvo built the Volvo VHD to be. If you didn't know better, you'd think it was built out of cast iron with a thousand horses under the hood. It's that strong, rugged, and dependable. In other words, it's just what you need to get the job done.  

The axle-forward VHD 300 day cab is a perfect solution when payload requirements demand a bridge-law complaint wheelbase. It offers an easily customizable chassis, up to nine power take-off options, and a factory-installed piston or gear pump.

The axle-back VHD 300 day cab is ideal for job sites that demand tighter turns. The cab offers amazing visibility for a more panoramic view of the work area. And the axle back configuration offers Volvo's best turning radius for dump applications.

The VNR 300 cab brings the precise refinement of the driving environment to a lightweight, efficient day cab. The cab interior is thoughtfully organized to keep daily-route drivers productive, comfortable, and happy.
7.

Western Star Trucks

Western Star produces a range of Class 8 commercial vehicles for both highway and off-road use. Western Star specializes in trucks tailored to customer specifications. Every Western Star offers several sleeper box sizes, with chassis lengths of up to 486 inches depending on the model. 

Western Star 6900 is a severe duty dump truck. When you need to tackle the biggest and toughest jobs, there's only one truck out there – the Western Star 6900. As a tractor, it can pull loads of over 500,000 pounds all day long. And with a body and it can move 80,000. Add in the engine choices and build options, and you've got a truck that's as versatile as it is powerful.

Western Star 4700 is tough and versatile, the 4700 is more than just a great value. It's a great truck. Its excellent efficiency and maneuverability make it perfect for local and regional hauls as a tractor, while its rugged dependability gives you the performance you can count on for almost any vocational application. 

The Western Star 4800 offers incredible performance and durability in a 109-inch BBC package, meaning you can get that performance in and out of tight spots. Featuring a streamlined cab, Western Star's legendary toughness, and loads of options, you can build to suit any job – no matter how tight the site.
6.

Mack Trucks

Mack Trucks, Inc., is an American truck manufacturing company and a former manufacturer of buses and trolleybuses. Founded in 1900 as the Mack Brothers Company, it manufactured its first truck in 1907 and adopted its present name in 1922. Mack Trucks is a subsidiary of AB Volvo which purchased Mack along with Renault Trucks in 2000.

The Mack Granite dump truck is a powerful, durable, and versatile dump truck that can handle any job.

The Mack Granite Medium Heavy Duty (MHD) dump truck is ideally configured for shorter runs and lighter-duty cycles, Granite MHD reduces weight without sacrificing durability and comes in Class 7 and Class 8 configurations.
5.

International Trucks

Navistar International Corporation (formerly International Harvester Company) is an American holding company that owns the manufacturer of International brand commercial trucks, IC Bus school, and commercial buses, Workhorse brand chassis for motorhomes and step vans, and is a private-label designer and manufacturer of diesel engines for the pickup truck, van, and SUV markets. The company is also a provider of truck and diesel engine parts and services.

International makes medium-duty and severe duty dump trucks. International has four models to choose from and configure to your work needs – HV Series, HX Series, DuraStar, and the International WorkStar.

4.

Peterbilt

Peterbilt Motors Company, founded in 1939, is an American manufacturer of medium- and heavy-duty trucks. A subsidiary of Paccar, which also owns fellow heavy-duty truck manufacturer Kenworth. 

For 80 years, Peterbilt has supplied the North American commercial vehicle market with the industry's most rugged, reliable, and efficient products. Based in Denton, Texas, Peterbilt manufactures on the highway, vocational and medium-duty trucks that provide value to their owners and pride to their drivers.

Peterbilt is an iconic trucking brand. Their red oval design script-style lettering logo can be found on trucker clothing, truck hats, and more. Peterbilt makes up about 13 percent market share. Peterbilt is an iconic and beloved trucker brand.
Peterbilt currently manufactures several models of vocational and medium-duty dump trucks. The Peterbilt 389 is an iconic open highway dump truck. 

The Peterbilt 567 dump truck comes in a wide range of configurations and axles that can fit your needs. 

The Peterbilt 367 dump truck is a rugged and versatile vocational dump truck with a 123" BBC. 

The Peterbilt 348 dump truck is a medium-duty high-performance workhorse. 

The Peterbilt 337 is a medium-duty is configurable as a Class 7 truck and is ideal for a wrecker, tanker, and dump truck for municipal work.
3.

Kenworth

Kenworth is an American manufacturer of medium and heavy-duty Class 8 trucks with offices based in Kirkland, Washington, a suburb of Seattle. Kenworth is one of three major truck divisions and brands under the parent company PACCAR.

Founded in 1912 by the brothers George T. and Louis Gerlinger JR as a car and truck dealership known as Gerlinger Motor Car Works. In 1914, they decided to build their own truck with a more powerful inline six-cylinder engine, the first put into a commercial truck.

Kenworth has majorly grown since 1912 with annual revenue of 19.1 billion dollars. With an estimated 154,000+ trucks sold in 2015 and pushed out Peterbilt sightly. They have about a 14% market share.

Kenworth has several models of trucks that can be converted to a dump truck. The Kenworth dump truck models are as followed: Kenworth T800 dump truck, Kenworth T880 dump truck, Kenworth W900 dump truck, Kenworth T370 dump truck, Kenworth T440 & T470 dump trucks.
2.

Freightliner

Freightliner is America's most popular and best selling semi-trucks. They also make several models of severe and vocational dump trucks. 

Construction-industry professionals know the value of a quality, dependable, low-maintenance dump truck that can take on any task. Freightliner dump trucks are rigorously tested to ensure quality and longevity, increasing productivity on any job site and helping you get the job done on time and within budget.

No matter what type of load you're hauling, Freightliner offers a wide variety of dump truck sizes and specs. From superior visibility to a spacious, ergonomic cab, our dump trucks help drivers stay comfortable and productive from the worksite to the dump site. Freightliner is dedicated to building superior dump trucks that meet your needs. 

Currently, Freightliner makes the 108SD, M2 106, 114SD, and the 122SD models. 
1.

Cat

For over 50 years, rugged Cat® off-highway trucks and mining trucks have worked in the harsh conditions of mines, construction projects, and quarries around the world. Pass-matched with our wheel loaders and excavators, you can count on our haul trucks for maximum productivity at a low cost per ton.

CAT offers three equipment types – Mining Trucks, Off-Highway Trucks, and Off-Highway Trucks Bare Chassis.
Conclusion
Freightliner takes the cake for the most popular semi-truck in America for 2019. When it comes to dump trucks Freightliner is still top dog based on market share, but Caterpillar is number one when it comes to heavy haul trucks.
Whether you drive a Freightliner, Peterbilt, or Kenworth, every driver has their favorite dump truck. What's your favorite? Please comment below. Also, don't forget to follow us on Facebook for more great trucking content.

Dump Truck FAQ
WHAT IS A DUMP TRUCK
A dump truck, also known as a dumper truck or tipper truck, is used for taking dumps such as sand, gravel, or demolition waste for construction.
A typical dump truck is equipped with an open-box bed, which is hinged at the rear and equipped with hydraulic rams to lift the front, allowing the material in the bed to be deposited ("dumped") on the ground behind the truck at the site of delivery. 
This article will go over the different types of dump trucks, dump truck brands, how to buy a dump truck, and how to finance a dump truck.
TYPES OF DUMP TRUCKS
There are several types of dump trucks for pretty much any application you can think of. Below is a breakdown of the different types of dump trucks.
STANDARD DUMP TRUCK
A standard dump truck is a truck chassis with a dump body mounted to the frame. The bed is raised by a vertical hydraulic ram mounted under the front of the body or a horizontal hydraulic ram and lever arrangement between the frame rails, and the back of the bed is hinged at the back of the truck. 
The tailgate can be configured to swing up on top hinges (and sometimes also to fold down on lower hinges) or it can be configured in the "High Lift Tailgate" format wherein pneumatic rams lift the gate open and up above the dump body.
SEMI-TRAILER END DUMP TRUCK
A semi-end dump is a tractor-trailer combination wherein the trailer itself contains the hydraulic hoist. In the US a typical semi-end dump has a 3-axle tractor pulling a 2-axle trailer with dual tires. 
The key advantage of a semi-end dump is a large payload. A key disadvantage is that they are very unstable when raised in the dumping position limiting their use in many applications where the dumping location is uneven or off-level.
TRANSFER DUMP TRUCK
A transfer dump truck is a standard dump truck pulling a separate trailer with a movable cargo container, which can also be loaded with construction aggregate, gravel, sand, asphalt, klinkers, snow, wood chips, triple mix, etc.
The second aggregate container on the trailer ("B" box) is powered by an electric motor, a pneumatic motor or a hydraulic line. It rolls on small wheels, riding on rails from the trailer's frame into the empty main dump container ("A" box).
This maximizes payload capacity without sacrificing the maneuverability of the standard dump truck. Transfer dump trucks are typically seen in the western United States due to the peculiar weight restrictions on highways there.
TRUCK AND PUP
A truck and pup are very similar to a transfer dump. It consists of a standard dump truck pulling a dump trailer. The pup trailer, unlike the transfer, has its own hydraulic ram and is capable of self-unloading.
SUPER DUMP TRUCK
A super dump is a straight dump truck equipped with a trailing axle, a liftable, load-bearing axle rated as high as 13,000 pounds. Trailing 11 to 13 feet behind the rear tandem, the trailing axle stretches the outer "bridge" measurement, the distance between the first and last axles, to the maximum overall length allowed. 
This increases the gross weight allowed under the federal bridge formula, which sets standards for truck size and weight. Depending on the vehicle length and axle configuration, Superdumps can be rated as high as 80,000 pounds. GVW and carry 26 short tons of payload or more. 
When the truck is empty or ready to offload, the trailing axle toggles up off the road surface on two hydraulic arms to clear the rear of the vehicle.
SEMI-TRAILER BOTTOM DUMP TRUCK
A semi-bottom dump or belly dump is a 3-axle tractor pulling a 2-axle trailer with a clamshell type dump gate in the belly of the trailer. 
The key advantage of a semi-bottom dump is its ability to lay material in windrows, a linear heap. In addition, a semi-bottom dump is maneuverable in reverse, unlike the double and triple-trailer configurations described below. 
These trailers may be found either of the windrows type shown in the photo or maybe of the cross spread type, with the gate opening front to rear instead of left and right. The cross-spread type gate will actually spread the cereal grains fairly and evenly from the width of the trailer. 
By comparison, the windrow-type gate leaves a pile in the middle. The cross-spread type gate, on the other hand, tends to jam and may not work very well with coarse materials.
DOUBLE & TRIPLE TRAILER BOTTOM DUMP TRUCK
Double and triple bottom dumps consist of a 2-axle tractor pulling one single-axle semi-trailer and an additional full trailer (or two full trailers in the case of triples).
These dump trucks allow the driver to lay material in windrows without leaving the cab or stopping the truck. 
The main disadvantage is the difficulty in backing double and triple units.
SIDE DUMP TRUCK
A side dump truck also known as an SDT consists of a 3-axle tractor pulling a 2-axle semi-trailer. It has hydraulic rams that tilt the dump body onto its side, spilling the material to either the left or right side of the trailer. The key advantages of the side dump are that it allows rapid unloading and can carry more weight. 
In addition, it is almost immune to upset or tipping over while dumping, unlike the semi-end dumps which are very prone to tipping over. It is, however, highly likely that a side dump trailer will tip over if dumping is stopped prematurely. 
Also, when dumping loose materials or cobble-sized stones, the side dump can become stuck if the pile becomes wide enough to cover too much of the trailer's wheels. 
Trailers that dump at the appropriate angle, 50° for example, avoid the problem of the dumped load fouling the path of the trailer wheels by dumping their loads further to the side of the truck, in some cases leaving sufficient clearance to walk between the dumped load and the trailer.
WINTER SERVICE VEHICLES
Many winter service vehicles are based on dump trucks, to allow the placement of ballast to weigh the truck down or to hold sodium or calcium chloride salts for spreading on snow and ice-covered surfaces. Plowing is a severe service and needs heavy-duty trucks.
ROLL-OFF TRUCKS
A Roll-off has a hoist and subframe, but nobody, it carries removable containers. The container is loaded onto the ground, then pulled onto the back of the truck with a winch and cable. The truck goes to the dumpsite after it has been dumped the empty container is taken and placed to be loaded or stored. 
The hoist is raised and the container slides down the subframe so the rear is on the ground. The container has rollers on the rear and can be moved forward or back until the front of it is lowered onto the ground. 
The containers are usually open-topped boxes used for rubble and building debris, but rubbish compactor containers are also carried. A newer hook-lift system does the same job, but lifts/lower and dumps the container with a boom arrangement instead of a cable and hoist.
OFF-HIGHWAY DUMP TRUCKS
Off-highway dump trucks are heavy construction equipment and share little resemblance to highway dump trucks. Bigger off-highway dump trucks are used strictly off-road for mining and heavy dirt-hauling jobs. 
There are two primary forms: a rigid frame and an articulating frame. The term "dump" truck is not generally used by the mining industry, or by the manufacturers that build these machines. The more appropriate U.S. term for this strictly off-road vehicle is "haul truck".
HAUL TRUCK
Haul trucks are used in large surface mines and quarries. They have a rigid frame and conventional steering with the drive at the rear wheel. As of late 2013, the largest ever production haul truck is the 450 metric ton BelAZ 75710, followed by the Liebherr T 282B, the Bucyrus MT6300AC, and the Caterpillar 797F, which each have payload capacities of up to 400 short tons. 
Most large-size haul trucks employ Diesel-electric powertrains, using the Diesel engine to drive an AC alternator or DC generator that sends electric power to electric motors at each rear wheel. The Caterpillar 797 is unique for its size, as it employs a Diesel engine to power a mechanical powertrain, typical of most road-going vehicles and intermediary-size haul trucks. 
Other major manufacturers of haul trucks include SANY, XCMG, Hitachi, Komatsu, DAC, Terex, and BelAZ.
ARTICULATED HAULER
An articulated dumper is an all-wheel-drive, off-road dump truck. It has a hinge between the cab and the dump box but is distinct from a semi-trailer truck in that the power unit is a permanent fixture, not a separable vehicle. 
Steering is accomplished via hydraulic cylinders that pivot the entire tractor in relation to the trailer, rather than a rack and pinion steering on the front axle as in a conventional dump truck. 
By this way of steering, the trailer's wheels follow the same path as the front wheels. Together with all-wheel drive and a low center of gravity, it is highly adaptable to rough terrain. Major manufacturers include Volvo CE, Terex, John Deere, and Caterpillar.
Check out these other great trucking articles
About
TopMark Funding
TopMark Funding is a top-rated truck financing and equipment financing company located in Roseville, CA. We specialize in commercial trucking and heavy equipment. Our mission is to become your long-term financial partner by helping you grow your trucking business and fleet. 
We're not here for the short term, we're on the long haul with you!
We have financing options for commercial trucks, trailers, and small businesses. We have great rates, low down payments, and flexible monthly payments regardless of credit history.
Fill out the contact form or give us a call at (866) 627-6644. One of our truck financing specialists will contact you as soon as possible to go over your truck lease needs and learn more about you and your business financing goals.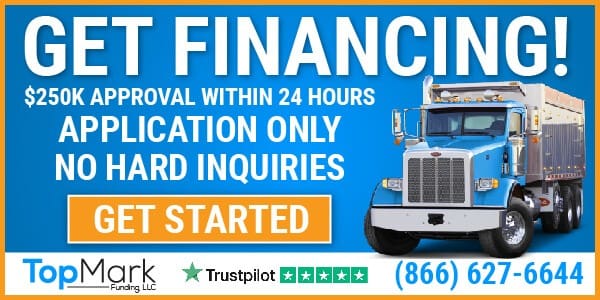 Earl Z.
★★★★★
Daniel at top mark helped us get our new truck process was a little long but all together was a great experience Daniel was great we got everything we needed he was efficient and helpful throughout the whole deal I would recommend theses guys and will use again in the future
Anna R.
★★★★★
TopMark Funding was perfect for us. Nick G was professional, knowledgeable, and super fast! We will be on the road in less than a week! Thank you Nick G.
Nonie B.
★★★★★
Very good guy to work with for sure
Manuel P.
★★★★★
Thomas B was so helpful in guiding a first timer through the process. Very responsive and had knowledgeable helpful answers and guidance. Highly recommended!
Prudencio O.
★★★★★
Definitely great team to help me out to purchase my FORD TRANSIT AWD 2023. Very helpful, and patient. I do appreciate to all, and Mr Thomas Battistella that made things happen. THANK YOU ALL VERY MUCH.
Drizzy D.
★★★★★
David was a pleasure to work with. He made the process very easy and direct. I appreciated his quick response and transparency.
Trumayne C.
★★★★★
Hey Ben Gerboth is the best to work with will go the the extra mile like you are his family !
Manuel C.
★★★★★
David did an excellent job in getting us funded for my company's commercial vehicle. He was very knowledgeable and kept us updated throughout the whole process. If you need help with commercial vehicle financing reach out to David he can get things done.
Nachito L.
★★★★★
Had a great experience working with Joshua W. He was patient and very understanding. We've been working to get the best equipment for my company. Everything went smoothly closing the deal. I look forward in working with him on my next project. Thanks again TopMark Funding for having a great team.
Robert H.
★★★★★
Helped all the way. I had no problems or Surprises
Maurice H.
★★★★★
Josh Woodward is the Man to go to for all your Financing needs.. He was very responsive, patient, informative, Down to earth and he handles business very well. No matter the question.. He has answers...Josh walked me Step by step during the process of purchasing a truck and I can't wait to purchase again thank you josh.
NoLove R.
★★★★★
Thomas was a man of his word..very professional and quick to respond to everything I asked..definitely took care of me. I recommend 10/10
Blessing N.
★★★★★
Thomas Battistella is the best financing agent i have ever worked with! He was very patient, professional, and kind in working with me to get financing for my first truck. Thomas was graceful throughout the entire process and was willing to go above and beyond making sure the right kind of paperworks were submitted. He never rushed me and made the whole process very smooth.If u looking for financing for your trucking business, Thomas Battistella and TopMark should be your FIRST CHOICE.
torrey H.
★★★★★
I only have great things to say about Top Mark. If you in the need of financing contact Jessica with Top Mark Funding, She was great through the whole process. My experience was 5 Stars!
Joseph G.
★★★★★
Jessica Smith is your go to for all of your truck and trailer financing wants/needs! She has helped out on many of our deals and takes great care of our customers! Highly recommended!
Tr G.
★★★★★
Nick has surpassed our first encounter when purchasing our first rig last year!! Today with our dry van purchase, he has gone over and beyond with his attention to detail, hassle free experience and professionalism!!! NICK PIRING=Exceptional Customer Service!!!!
Niki
★★★★★
David Bolce is the man! We closed this truck funding in a week. David was very helpful and with the knowledge about trucking industry. This is my first truck going through finance with institution and I am looking forward to work with David again.
Irvin R.
★★★★★
We are so very appreciative to have worked with Nicholas Pairing, Sr. Account Executive of TomMark Funding! His experience helped us thru the process from begin to end. He was very experienced and thoroughly explained out options and patiently waited for us to make our decision! We could not have asked for a better Account Executive to have worked with and we recommend that if you are going to search for commercial financing and need assistance, Nicholas Piring is the person to contact.
Axel B.
★★★★★
Very good company and easy to work with, they help you a lot and give you a lot of help, thanks to Lizz she was very helpfull.
Elvira G.
★★★★★
This was the second time we had our equipment financed by the TopMark Funding. When my husband's truck required an engine replacement, first thing he did was he called David Bolce for a consultation. Moneywise it was better to buy a newer truck than to restore an old one. As soon as we found a suitable truck, it took three days for David to do all the paperwork. Then TopMark Funding wire transferred money to the dealer, and in a week my husband was back on the road. Thanks David the process of buying the truck was very clear, straightforward and fast. But above all with David and TopMark Funding we have a helping hand we can always rely on. I definitely recommend them for the development of your business.
Axel B.
★★★★★
very good company, they give you good service and work the best to find you the best interest rate for your business loan, I worked with Lizz and she was very helpfull and with good service.
Jeff F.
★★★★★
Chase went above and beyond to get my deal funded. Thank you for the great service!
Valdez G.
★★★★★
Brendan was on top of all our stuff and time efficient got our paperwork done in a proper manner very knowledgeable of his work
Kurt Q.
★★★★★
The ladies at TM funding worked tirelessly to fullfill the financing of my Truck. I've never experienced the diligence this company provided. They worked without pause to assure my dreams were met. Big thanks to TM funding, Andrea and Cindy are rockstars
Geofrey N.
★★★★★
Great customer service. Efficient , effective and reliable. I have had a great experience with them since 2017. Thumps up for Nick Gilmore. Great guy.
Kara B.
★★★★★
I worked with Patrick at Top Mark. He has been nothing short of patient, knowledgeable, and efficient. I had so many questions about commercial financing and he was able to assist with virtually everything. He was also available either by text, email or phone and was prompt in responding to me.He made the funding process a breeze and I am so happy I was able to get this deal finalized with him and his company.As a newer company it's a struggle to get funded but they were able to help me out. I recommend this company to new businesses especially since they will assist with getting you funded when traditional banks are not an option.
Guillermo O.
★★★★★
Outstanding work thank you Dave Bolce was there with our company a Ino Landscaping on getting financing for a mini excavator everything was quick and easy not complicated not making me jump through hoops highly recommended for anybody looking to refinance equipment
Deangelo R.
★★★★★
Calvin Tuon is a great lender! He walked me through the entire process smoothly. I was able to get two 26 foot box-trucks. I now run a successful logistics company because of Calvin. I will forever do business will Calvin because he's an honest person and he takes care of his clients
Marvin H.
★★★★★
Thank you Top Mark Funding-On a scale of 1 to 10 I rate Top Mark funding a 10+They were hands onThey made sure I got what I neededI will recommend anyone with a business that need to be funded GO TO TOP MARK FUNDING
Andre
★★★★★
David Bolce was very professional and did his job excellent.
S. L.
★★★★★
My husband and I are so grateful that we found TopMark Funding and even more that we were able to work with Benjamin Gerboth. He is outstanding! He made what seemed daunting so easy. He explained everything in detail, he was knowledgeable, patient and enthusiastic. He would stop at nothing to help us and we really appreciated that. What is more, his kind personality truly made for a wonderful experience. If we had to do it again, we definitely would choose Benjamin Gerboth and would recommend TopMark! Thank you Ben!!!
Cesar G.
★★★★★
I'm Cesar and I would like to share my experience with top Mark founding, I had the pleasure to work with a very professional team.They were very easy to talk to and they make financing for a heavy equipment quite easy. This was my first purchase, and they worked with me. I want to give a special thanks to David Bolce he guided me through each step of the way, I really appreciate it.
Terry T.
★★★★★
I recently purchased a commercial truck using TopMark Funding as my lender. As always with a commercial loan, there are a few bumps and hurtles. But with the assistance of Thomas Battistella, everything worked out well. He is very professional, always promptly answered phone calls and emails. He really came through for me. I highly recommend Thomas at TopMark when considering an equipment purchase.
Luis R.
★★★★★
Damian is very professional, he always returns calls and completes task as promised. The funding process was quick and painless. I will send all my return business with this organization and refer others. Thanks Damian and Top Mark Funding for everything!!
Jackie V.
★★★★★
Damien Norris is the Best he was so much help to me in buying my first truck
Joey
★★★★★
Great experience for me!
joy A.
★★★★★
Jeff Guilford helped orchestrate the processing of my loan from start to finish. He made my first time purchase of a commercial vehicle easier than I expected. I appreciate all the help he gave. He was also very knowledgeable and attentive to my questions.
Erin C.
★★★★★
Justin was extremely helpful. Great communication! Made the whole process effortless.
Noemi G
★★★★★
Adam helps Us. Made our life so easy. Gracias gracias. Gracias for everything. You really change our lifes.