We at TopMark Funding try to use the word "skyrocket" sparingly, only for the craziest of circumstances in the trucking industry. We believe J.D. Valuation Services' numbers for used Class 8 truck auction rates is a perfect example of when to use the word, and when you see the numbers we think you will agree.
The Numbers
Whereas in October 2021 the auction rates for all five model years increased, only four increased this time around. The numbers for those four are truly extraordinary.
Model Year 2018: $99,120 average, 16.5% higher than October.

2017: $87,701, 25.4% increase.

2016: $62,360, 3.8% decrease.

2015: $50,969, 14.5% increase.

2014: $44,356, 28.1% increase.
It does not take a Nobel Laureate in Economics to tell that things in the trucking industry are not in equilibrium right now. In a year where annual inflation has been pegged at 7%, the average price on used truck models has increased 7% per month. That means a truck bought in January 2021 could have been sold in November for $105,000, all things being equal.
The cause of this increase is the usual suspect: COVID-19 lockdowns led to demand building up and releasing while supply production was shelved, making backlogs for new trucks to flood, causing fleets to substitute with "almost-new" trucks.
What would be interesting to see is how the market for clunkers is doing. Trucks with model years 2014-2018 are doing well because they need minimal maintenance, but is demand so strong that even 2005 Freightliners are trading hands? Unfortunately, the data is sparse.
Conclusion
Fleets hoping to expand have to start asking themselves the big questions: is it worth buying trucks in the current market? How long will the run on trucks last, and how long until prices are reasonable once more? Companies wanting to get a used truck will have to do some financial analysis to determine if it is really worth it. If prices continue to rise at a rate of 7% per month, however, that is enough to overcome depreciation on older vehicles. Buy a 2014 for $44,356, drive it commercially for a year, and sell it for $44,356 (or even more).
The choice is ultimately up to you as to what to get, if anything at all, but TopMark Funding can certainly help with the financing!
ABOUT TOPMARK FUNDING
TopMark Funding is a top-rated semi-truck financing and trailer financing company located in Roseville, CA. We specialize in commercial trucking and heavy equipment. Our mission is to become your long-term financial partner by helping you grow your trucking business and fleet.
We're not here for the short-term, we're on the long-haul with you!
We have financing options for trailers, semi-trucks, commercial trucks, and small businesses. We have great rates, low down payments, and flexible monthly payments regardless of credit history.
Learn more about Trailer Financing.
Fill out the contact form or give us a call at (866) 627-6644. One of our truck financing specialists will contact you as soon as possible to go over your truck lease needs and learn more about you and your business financing goals.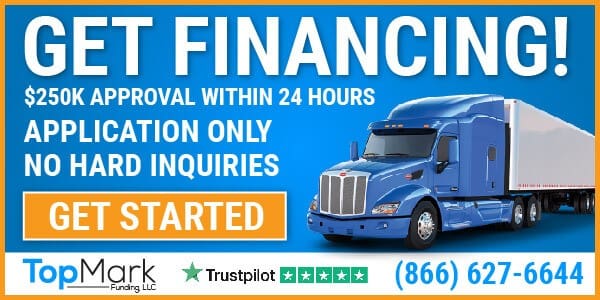 Top Trending Trucking Articles