The Inflation Reduction Act of 2022 is a scaled-back version of President Biden's Build Back Better climate change proposal. The Inflation Reduction Act aims to combat severe weather events for infrastructure projects and promote greener sources of energy for transportation networks.
The total bill comes to a grand $740 billion and while the bill details many different initiatives, this article will only focus on the $369 billion for climate action and energy security.
Where is this money going?
The $369 billion would allot $60 billion for growing renewable energy infrastructure in manufacturing like solar panels and wind turbines.
The bill would, according to Democrats, lower greenhouse gas emissions by 40% by the end of the decade, which is short of the 50% Biden had originally aimed for.
The bill would allocate $27 billion for a greenhouse gas reduction fund. Additionally, the bill would provide $60 million for Diesel Emissions Reduction Act funding, which is a program that targets communities that are near areas that are exposed to diesel emissions. 
This would also dedicate $3 billion to reduce air pollution and carbon emissions at the country's ports. Lastly, $1 billion to upgrade heavy-duty vehicles with zero-emitting capabilities.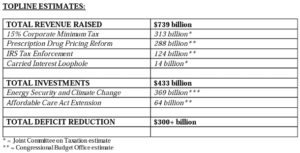 Who is for or against this?
"In what would amount to the most ambitious climate bill ever enacted, this legislation would put our nation on track to nearly 40% emissions reduction by the end of the decade, unleash the potential of the American clean energy industry, and create good-paying jobs across the country," said Environment and Public Works Committee Chairman Tom Carper (D-Del.), a co-sponsor.
"Just as its name suggests, at its core, this legislation is about lowering costs and creating a fairer economy for American families. That means finally lowering drug prices that weigh on our nation's seniors with fixed incomes, keeping health insurance affordable for millions of Americans, and making sure that corporations and the ultra-wealthy pay their fair share in taxes."
Sen. Joe Manchin (D-W.Va.), the Energy and Natural Resources Committee's chairman and the bill's primary architect, said, "We have the opportunity to make our country stronger by bringing Americans together. I will do everything I can to usher in a new era of compromise and common sense that will make America more energy secure, financially sound and a more united country for this generation and the next."
Senate Republicans have voiced their concerns about this bill. Minority Leader Mitch McConnell (R-Ky.), had some concerns.
"The so-called Inflation Reduction Act would actually increase inflation in the short term and do nothing for inflation in the long term," McConnell said. "Their tax hikes would shatter President Biden's promise not to impact households earning below $400,000. Many billions of dollars of the new tax hikes would fall directly on the working class and the middle class."
"Democrats want to raise taxes, pass more reckless government spending, and attack American energy," argued Sen. John Barrasso (R-Wyo.), a member of his caucus' leadership team. "Democrats are out of touch with the reality facing the American people. Now, we're facing a recession because of their economic failures."
Conclusion
The language and the details of the bill were very confusing (as government information usually is). With the massive amount of money being spent, it's vital to understand where it is going and how it is planned to help the nation. Subscribe to TopMark Funding for news like this.
ABOUT TOPMARK FUNDING
TopMark Funding is a top-rated semi-truck financing and trailer financing company located in Roseville, CA. We specialize in commercial trucking and heavy equipment. Our mission is to become your long-term financial partner by helping you grow your trucking business and fleet.
We're not here for the short-term, we're on the long-haul with you!
We have financing options for trailers, semi-trucks, commercial trucks, and small businesses. We have great rates, low down payments, and flexible monthly payments regardless of credit history.
Learn more about Trailer Financing.
Fill out the contact form or give us a call at (866) 627-6644. One of our truck financing specialists will contact you as soon as possible to go over your truck lease needs and learn more about you and your business financing goals.