Everyone's favorite part of being a truck driver, and the main reason for getting into the business in the first place, is waiting for pickup and dropoff. Oftentimes, these wait times are unpaid, but the state of Pennsylvania is working to make these arduous hours a little more manageable by requiring restroom access. Say hello to the Truck Driver Restroom Access Act.
Details
The Truck Driver Restroom Access Act would require retail and port restroom access for truck drivers, meaning this bill not only applies to pickup and dropoff, but also a trucker, able to find suitable parking, may use just about any business establishment to do his or her business. Presumably, this would also apply to businesses who normally reserve their restroom for employees only, or customers only.
Were the Bill to become law, a business will be warned for the first offense and then may be required to pay a fine of $300 for each subsequent offense.
The Bill has been introduced into the Pennsylvania House of Representatives by Republican Jason Silvis, and has been sponsored by ten Republicans and two Democrats.
In introducing the Bill, Silvis said, "Even before COVID, access to restrooms was a problem for these drivers who cannot easily park at a gas station due to the size of their vehicles. In addition, many times they are forced to wait in their trucks for hours for their turn to unload or be reloaded. Access to bathroom facilities is a sanitary issue that needs to be addressed."
Pennsylvania is not the first state to introduce such a law: Washington very recently signed a similar bill into law.
Conclusion
The Bill will have to go through similar processes as a bill would at the national level: be agreed upon by both House and Senate, then signed off by the governor.
We hope that it becomes law and that other states in the nation follow Washington's and Pennsylvania's lead; not everyone has an extended sleeper cab with a toilet with which to do their business.
With all of the various bills that have been introduced on the state and national level, it seems that truckers are slowly but surely increasing in respect amongst the public eye. We hope that it lasts!
ABOUT TOPMARK FUNDING
TopMark Funding is a top-rated semi-truck financing and trailer financing company located in Roseville, CA. We specialize in commercial trucking and heavy equipment. Our mission is to become your long-term financial partner by helping you grow your trucking business and fleet.
We're not here for the short-term, we're on the long-haul with you!
We have financing options for trailers, semi-trucks, commercial trucks, and small businesses. We have great rates, low down payments, and flexible monthly payments regardless of credit history.
Learn more about Trailer Financing.
Fill out the contact form or give us a call at (866) 627-6644. One of our truck financing specialists will contact you as soon as possible to go over your truck lease needs and learn more about you and your business financing goals.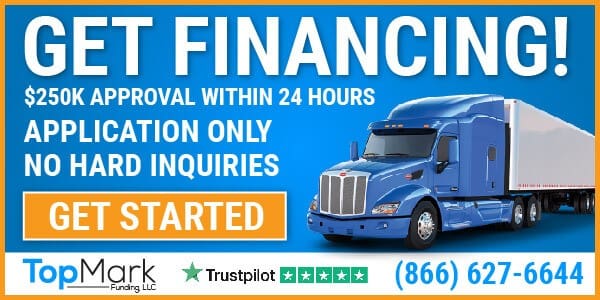 Top Trending Trucking Articles