J.D. Valuation Services has released the average auction prices for December 2021. The numbers, while on average lower than the month prior, show just how far trucking has come in the last twelve months.
The Numbers
When December comes around, most fleets that want trucks to make holiday deliveries have already obtained them (if they can), so the demand tends to drop slightly compared to November. The results here confirm that suspicion.
Model year 2018: $95,852 average, 3.3% lower than November.
2017: $73,705, 15.8% decrease.
2016: $64,772, 3.9% increase.
2015: $49,383, 3.1% decrease.
2014: $37,084, 16.4% decrease.
Looking at these data points on their own, a trucker may be inclined to believe that truck prices are cheap at this point in time. Should we compare them to the start of the year? January 2021 average auction rates were:
Model year 2018: $51,179 average and 53.4% of the price.
2017: $47,200, 64% of year-end price.
2016: $37,333, 57.6% of year-end price.
2015: $28,350, 57.4% of year-end price.
2014: $20,344, 54.9% of year-end price.
Needless to say, those who purchased a truck at the start of the year have seen their investment pay off. Perhaps for the first time in recorded history, the appreciation of prices on vehicles has outpaced depreciation.
While the holiday season coming to a close has put the brakes on prices for the time being, it is likely with current events slowing the supply chain for the foreseeable future that prices will continue to climb, not falter.
As 2021 ends, J.D. Valuation Services is set to retire tracking 2014 model averages and will start with tracking 2019 models. Considering how high 2018 models are right now, it would not be surprising to see 2019 models at six figures.
What will be interesting to see in a year's time is what the prices for the rare 2020 models will be, since everything started closing up during that time. Will they be considered collector's editions?
ABOUT TOPMARK FUNDING
TopMark Funding is a top-rated semi-truck financing and trailer financing company located in Roseville, CA. We specialize in commercial trucking and heavy equipment. Our mission is to become your long-term financial partner by helping you grow your trucking business and fleet.
We're not here for the short-term, we're on the long-haul with you!
We have financing options for trailers, semi-trucks, commercial trucks, and small businesses. We have great rates, low down payments, and flexible monthly payments regardless of credit history.
Learn more about Trailer Financing.
Fill out the contact form or give us a call at (866) 627-6644. One of our truck financing specialists will contact you as soon as possible to go over your truck lease needs and learn more about you and your business financing goals.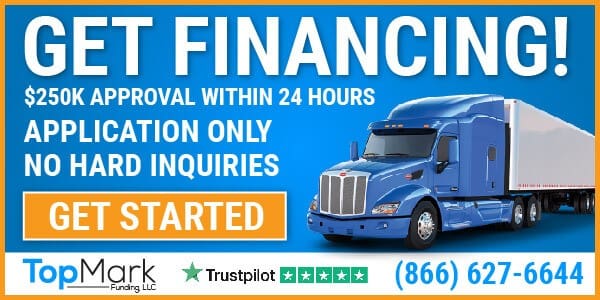 Top Trending Trucking Articles