The latest chapter in the Freedom Convoy/Blockade saga has made an interesting turn.
On February 14th, Justin Trudeau announced that he was invoking the Emergencies Act of 1988, the first time it will be invoked since first it became law. This has lasting ramifications for truckers.
Emergencies Act
Established almost 25 years ago, Canada's Emergencies Act gives the prime minister broad powers to "restore order" without parliamentary approval for seven days. It is intended to allow the prime minister to take swift and decisive action when time is of the essence. If the prime minister wants to continue using emergency powers afterwards, he must get approval from parliament.
Prime minister Justin Trudeau says that he will not use military action to end the Freedom Blockade, but is using the emergency powers to:
Compel tow trucking companies to tow away the trucks at a fair price to the government.
Freeze financial accounts, including crypto assets, that belong to protestors of the Freedom Convoy.
Allow stronger use of the Royal Canadian Mounted Police, the federal police agency.
The move comes at a pivotal time when various provinces, such as Quebec, are putting an end to vaccine passport mandates, but vaccine passports are still required to cross the United States-Canadian border.
While Justin Trudeau has described members of the Freedom Convoy and Blockade a "fringe minority", other countries such as France and New Zealand have citizens who follow suit with their own protests in solidarity with the one in Canada.
It is anyone's guess as to what happens next in regards to the Freedom Blockade, but many of the staunchest protestors have sworn to not back down. "There are no threats that will frighten us. We will hold the line," Tamara Lich said.
Conclusion
As the Freedom Convoy and Blockade enters its third week, tensions are rising in the capital city of Canada. We stand with the truckers fighting for their right to work without undue burden, but also hope that the situation does not turn to violence on either side. We are not sure what will happen next, but one thing for sure is that the Canadian government is pulling out all the stops.
ABOUT TOPMARK FUNDING
TopMark Funding is a top-rated semi-truck financing and trailer financing company located in Roseville, CA. We specialize in commercial trucking and heavy equipment. Our mission is to become your long-term financial partner by helping you grow your trucking business and fleet.
We're not here for the short-term, we're on the long-haul with you!
We have financing options for trailers, semi-trucks, commercial trucks, and small businesses. We have great rates, low down payments, and flexible monthly payments regardless of credit history.
Learn more about Trailer Financing.
Fill out the contact form or give us a call at (866) 627-6644. One of our truck financing specialists will contact you as soon as possible to go over your truck lease needs and learn more about you and your business financing goals.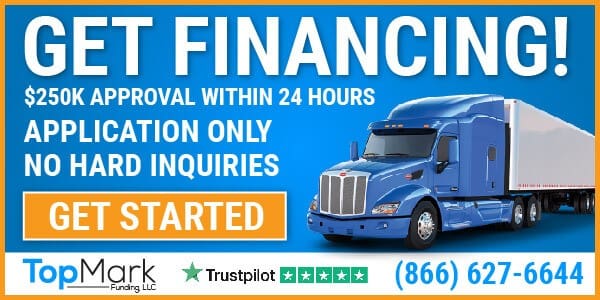 Top Trending Trucking Articles