After reaching an average record high of $5.1816 per gallon, diesel gas prices decline slightly according to AAA. 
This price drop comes after President Joe Biden announces a plan for a federal gas tax holiday.
As of July 6, the United States average price for diesel gas was $5.716, which is a decline of $0.6 cents from the week prior. This time last year, diesel averaged out at $3.250 per gallon according to AAA.
This decline in gasoline prices comes after a decrease in oil prices. Last week, the price per barrel of oil was $110, and now it stands at $107.62.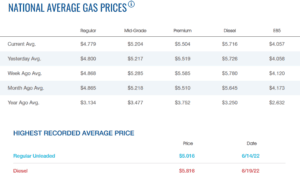 The U.S. Energy Information Administration, the government administration that provides the fuel prices to AAA, is currently facing server hardware damage and is unable to update the weekly numbers.
"On Friday, June 17, we discovered a voltage irregularity, which caused hardware failures on two of our main processing servers. This issue prevented us from processing and releasing several reports last week, and unfortunately, it continues to affect our ability to release data this week," an EIA release said.
EIA goes on to say, "Because we have been able to collect data throughout the outage and subsequent restoration, we will release the data that was scheduled for publication last week, including our U.S. average gasoline and diesel prices for June 20, 2022."
"Fear is not a good reason to move a market like the one for oil, but it is a powerful motivator," said Andrew Gross, AAA spokesperson. 
"The cost of oil accounts for nearly $3 for every $4.89 at the [gasoline] pump. Consumers should find more relief when fueling up if oil prices drop further."
The cost of West Texas Intermediate crude oil had increased to $107.62 per barrel on June 24. 
Although crude oil prices increased at the end of last week due to positive market sentiment, oil prices, at the lowest, stood at $102.25.
A lower economic growth rate than expected could cause crude oil demand to decline, leading prices to follow soon after. For this week, oil prices could decline if the EIA's reporting shows a large increase in total domestic stocks.
Subscribe to TopMark Funding's newsletter for updates on gasoline and diesel prices. 
ABOUT TOPMARK FUNDING
TopMark Funding is a top-rated semi-truck financing and trailer financing company located in Roseville, CA. We specialize in commercial trucking and heavy equipment. Our mission is to become your long-term financial partner by helping you grow your trucking business and fleet.
We're not here for the short-term, we're on the long-haul with you!
We have financing options for trailers, semi-trucks, commercial trucks, and small businesses. We have great rates, low down payments, and flexible monthly payments regardless of credit history.
Learn more about Trailer Financing.
Fill out the contact form or give us a call at (866) 627-6644. One of our truck financing specialists will contact you as soon as possible to go over your truck lease needs and learn more about you and your business financing goals.