Approximately a week after Governor Greg Abbott initiated increased scrutiny inspections at the border between Texas and Mexico, he has reneged the order at the border. The inspections will still take place, just with a more efficient method than using state troopers placed at the border and forming a queue.
Details
Governor Greg Abbott first lifted the intense inspections on trucks coming in from Nuevo Leon that had instead passed the inspection there. Because of the logistics involved in having a dedicated location to inspect rather than doing it at the border ad hoc, inspection times in Nuevo Leon were cut by 40%.
Governor Abbott has now negotiated similar deals with other Mexican states that border Texas, including Tamaulipas. He says that he will reinstate the border inspections if the Mexican states do not hold up their end in inspecting exporting vehicles.
Governor Abbott states that he started the inspections to curtail human trafficking and drug smuggling from Mexico. While the 6,000 inspections done over the week did not yield a single case of other felony, state troopers found that nearly 1 in 4 trucks inspected were faulty to the point of being unsafe to drive, and were given out-of-service orders to get them fixed.
Conclusion
The end of the inspections at the border means that truckers will not need to wait up to 30 hours to enter the United States by the way of Texas. Ultimately, these deals struck by Governor Abbott provide the best of both worlds: allowing for greater safety checks of trucks while also not slowing down the global supply chain with our second-greatest business partner too much.
With border crossings from Mexico to Texas back on at almost full speed, the trucking industry will not see a reduced production of trucks and trailers. After all, many of the top imports the United States receives from Mexico, such as steel and aluminum, are used in the manufacturing of big rigs, so things returning to pretty much normal is good news for those in the market for a truck or trailer.
ABOUT TOPMARK FUNDING
TopMark Funding is a top-rated semi-truck financing and trailer financing company located in Roseville, CA. We specialize in commercial trucking and heavy equipment. Our mission is to become your long-term financial partner by helping you grow your trucking business and fleet.
We're not here for the short-term, we're on the long-haul with you!
We have financing options for trailers, semi-trucks, commercial trucks, and small businesses. We have great rates, low down payments, and flexible monthly payments regardless of credit history.
Learn more about Trailer Financing.
Fill out the contact form or give us a call at (866) 627-6644. One of our truck financing specialists will contact you as soon as possible to go over your truck lease needs and learn more about you and your business financing goals.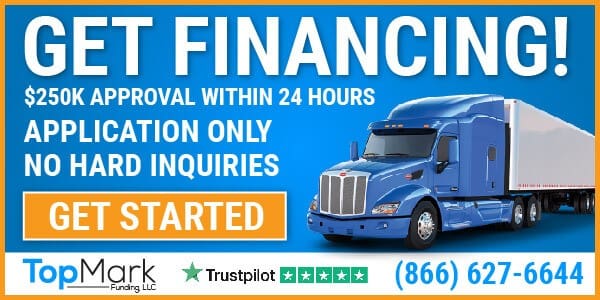 Top Trending Trucking Articles